Diseases of the joints
Gold implantations as an alternative medicine
Used thousands of times on animals and humans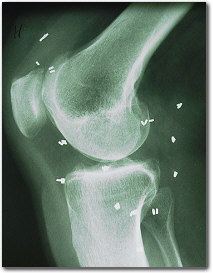 Knee joint with gold implants
Source: Dr. Hans Kryger Kjerkegaard1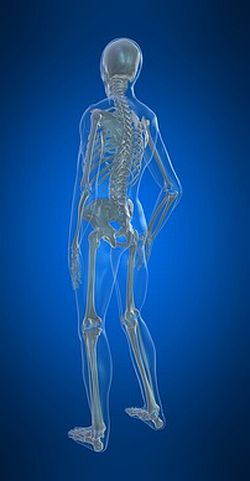 Did you know that in Germany alone 40 million people suffer from arthrosis joints? That 50 million days of absence from work due to unfitness and 25% early retirement are the outcome? And worst of all: artificial joints are being fitted increasingly early and with ever greater frequency. About 375,000 knee and hip joint operations are performed every year, with the trend pointing upwards. Astronomic costs are putting a strain on the insurers — and the insured are again being presented with the bill.
Until now there didn't seem to be any way out of this dilemma. Costs are increasing, the patient has to pay. Yet for decades there has been an alternative means of treatment that could long have been a solution to the difficult situation. In Germany, in veterinary medicine they have been used routinely on dogs and horses since 1993 with excellent results, in Denmark, for example, more than 8,000 people have already benefited from them:
So why, we ask ourselves, are gold implantations not also used on humans in Germany? Why is their success in veterinary medicine being completely ignored, although it is would be no problem to transfer it to humans? We want to follow this up.
It is our goal to gain approval for implanting gold as an alternative method of treatment for humans as one of the benefits of the statutory health insurance scheme.
The Ackermann team has assigned itself the task of presenting an almost risk-free and uncomplicated method of treatment as an alternative to joint replacement. We would like to inform millions of people with joint diseases about this option. They should be given the opportunity to choose between the two therapies and to take advantage of gold implantations as a service provided by the statutory health insurance scheme.
Putting patients first, not profit
It is not our aim to question the fundamental benefit of artificial joints. But in view of the insurance companies' great deficits, we cannot ignore the fact that there is an ever growing number of doctors who are voicing criticism. At the Surgeons' Congress in 2010, the President of the German Society for Surgery (Deutschen Gesellschaft für Chirurgie), Dr. med. Reiner Fradinger, said "We are suffering from an increasing commercialisation of medicine. In other words, unnecessary operations are being performed because they bring in money for the clinics and practices." And he continued: " … the growing orientation towards profit rather than to patient benefit is one of the most important topics at the Surgeons' Congress in Berlin."2
The strained state of the health insurers' finances forces us to do some rethinking. This is why we are seeking to address those in positions of responsibility and those who can support us. We need a broad consensus among medical doctors so that therapies using gold can be employed for the benefit of all.
Each patient has his or her own particular fate – from strong pains to restricted mobility, often resulting in problems within the family, being unfit for work and social exclusion.
If only 10% of all operations on knee and hip joints could be replaced by gold implantations, that would result, based on a conservative estimate, in
annual cost-savings of 300 million Euros.
Since "the ways in which humans and animals function have much in common"3, and as just 10% of knee and hip replacements are being considered in this estimate, it suggests that there is actually a far greater potential, with possible cost-savings amounting to billions!
But more importantly, in many cases it would be possible to help young people in an uncomplicated way, and one might be able to help older people to lose their fear of complications and relapses. In addition, most of the orthopaedic clinics and practices are hopelessly overloaded, which means that doctors and nursing staff are being burdened with unacceptable overtime. By reducing the amount of pre-treatment and aftercare and by effectively decimating pain treatment, gold therapy here too could reduce working hours significantly. The patient would benefit from this by receiving the appropriate quality of treatment.
Endoprosthetics is not always the best choice!
There are alternatives!
There are many good arguments in favour of gold implantations. Find out more on our website. Watch the videos and read our background information. Participate in our campaign!
Each of us might be one of those affected tomorrow.
Yours
The Ackermann team
1http://www.guldimplant.dk
2http://www.focus.de/gesundheit/arzt-klinik/klinik/medizin-die-klinik-verkommt-zum-marktplatz_aid_499570.html
3Team Schweda:Die Magie des Goldes. Goldtherapie für Hund, Pferd und Mensch. S. 18 — 22.